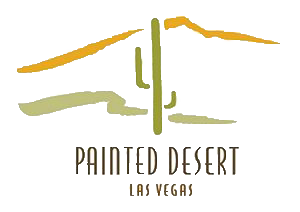 5555 PAINTED MIRAGE RD, LAS VEGAS, NV 89149
The Painted Desert Golf Club, noted as one of the first true desert courses in Las Vegas, opened back in 1987. It is well matured, developed, and always in perfect shape. For almost 20 years now, the Jay Morrish design has been providing golfers with a challenging yet reasonable design and is now in its best shape ever. Playing 6,781 yards from the tips, the course has tight fairways and a desert landscaping just outside the small area of rough. Finally there is something good to desert landscaping, the desert is playable. This time you get a second chance to hit it back in the fairway for recovery or if you are lucky, even on the green.
Another pride factor with Painted Desert are the greens. For being a desert course, you would expect the greens to be hard and unforgiving. Well it is exactly opposite. The greens will hold the hardest ball in your bag. Tee up a "Rock Flight" and you will see it dance on the greens in amazement; plus they roll as smooth as greens on tour. The maintenance crew deserves an award for its pristine conditions.
Being that Painted Desert Golf Club is built on some of the higher elevation points in the Las Vegas Valley, the views are remarkable. Even if you are not having the best of days on the course, the layout and views will make your day seem to go by much smoother. One of the courses most challenging holes and considered to be the signature hole is the par-3 eighth, playing 193 yards from the tips. From an elevated tee shot, you play to a sloping green that is protected by water front and left along with sand traps in the back. Hit and hope on this one. Another good hole is number 14. A short par-4 only playing roughly 299 yards from the tips, but is guarded by a lake from tee to green along the right side. If you are feeling confident about your game you can tee up a driver and try to crush one on the green. With the greens being as soft as marshmallows, the driver will actually hold. You can be putting for eagle if you play it right.
Assortment is the premise at Painted Desert. All four of the par-5s play further than 500 yards from the back tees, making these demanding and requiring fine shot making. Par-3 holes ranging from 125 to 227 yards require pinpoint accuracy and meticulous shot making. You better hit is straight, but remember if you get a good lie in the desert you may not need to take a drop…blast it out.
Painted Desert is located roughly 20-25 minutes from the Las Vegas strip. The course also integrated a clubhouse that is ready for your return from the course. With a large circular bar and raised ceilings, the clubhouse gives views of the course with a comfortable ambiance. The unique stone walls and fireplace adds to the sensation for golfers who have come in from the winter days of Las Vegas Golf. The greens are cross-cut and rolled Poa annua and come with moderate to tricky breaks and undulations; some of the smoothest greens you will ever experience. The course is laid with Rye or Bermuda depending on the season. With a driving range, practice bunker and chipping green, along with a putting green, Painted Desert is a full practice facility. Enjoy your day at the Painted Desert Golf Club.
*Complimentary breakfast or lunch and one fountain drink special: All tee times year around include the complimentary breakfast or lunch and one fountain drink special per person, with the exception of summer after 12pm and after 2pm during other seasons. Summer tee times after 12pm and all other seasons after 2pm do not include any food or beverage. Please mention the special upon check-in and you will receive vouchers for redemption that day. Please make sure to ask your VIPGS representative if you have any questions regarding this special.

18 Holes
Course Type: Desert / Canyon



Painted Desert Golf Club Statistics
DRESS CODE MEN
Collared shirt
Non demin, mid length shorts or pants
DRESS CODE LADIES
Collared shirt
Sleeveless blouse of conservative design
Non demin, mid length
shorts or pants
NOTE:
Clothing that is not appropriate includes: denim shorts, denim jeans, t-shirts, swimming attire, gym shorts, halter-tops, tank tops, cut-offs and other dress that is deemed inappropriate. The Club reserves the right to refuse service to anyone who is dressed inappropriately. Non-metal spikes must be worn while on the course.