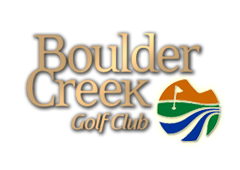 BOULDER CREEK GOLF COURSE
1501 VETERANS MEMORIAL DRIVE, BOULDER CITY, NV 89005
The Southwest's newest premier golf course, the 27-hole Boulder Creek Golf Club, opened in January of 2003. Mark Rathert has designed a beautiful facility in the Boulder City Community of Las Vegas to compliment the municipal Boulder City Golf Course. Boulder Creek Golf Club's Oasis-themed holes feature palm trees, beach bunkers, lakes, and waterfalls. Arroyos are artfully woven into the fabric of the course. Desert holes are bordered by the area's unique playable sand traps. No blind shots, no hidden hazards, just great golf at great rates. The Boulder Creek Golf Club was voted "Best Par 4" by Vegas Golfer Magazine.
Boulder Creek Golf Club plays pretty long; we are talking 7,600 yards or so from the tips. Thankfully there are 6 different tee boxes to choose from ranging from the expert to the beginner. This course is playable for everyone and at the same time all golfers are able to experience the feeling of high-end Las Vegas golf. Playing in and out of Arroyos, but with the rolling fairways, you get a feeling of a links style course yet set away in the stunning mountainous landscaping. With some of the best rates for this type of golf, Boulder Creek Golf Club is one of our "must plays".
Desert Hawk 9 is designed and laid out through the natural rolling terrain, diverse and extremely beautiful. With a combination of oasis and desert themes, Desert Hawk allows golfers the chance to use all of the clubs in their golf bag off the tees and in the fairways. Providing opening and closing holes that have tremendous water features, this nine hole layout presents excitement and challenges. Desert Hawk allows golfers to unleash monstrous drives and great golf shots on generous fairways. Desert Hawk will leave a lasting impression on golfers.
Coyote Run nine welcomes golfers with wide, lush fairways allowing for excellent playability and total comfort. With many arroyos meandering through the 9 holes, some of the most errant shots leave golfers with continuous scoring opportunities. While hosting a par-5 reaching from 635 to 500 yards, these nine holes also offer a high degree of difficulty. Through smooth, subtle elevation changes and yards and yards of scenic natural landscape, Coyote Run offers golfers wonderful scenery and numerous golfing challenges.
Eldorado Valley is a scenic yet diverse course. This unique, exciting course features a challenging yet fair layout that rewards much longer drives from the tee box. It offers many clear, concise, unobstructed shots from the lush fairway. If a golfer happens to drive it off track, the deep, natural sand bunkers will create a challenging scram. This course has everything for both the novice and professional golfer. Beautiful vistas, cool creeks, colorful wildflowers, and smooth beach bunkers add to the lure of this unique course.
Being that the course is of such high quality, you would expect nothing but the same with the service. From the bag drop to the cart return, you will feel as if the staff has catered to your every need. Finally a staff that really enjoys what they are doing. With that said, Boulder Creek Golf Club is a perfect venue for any group size. With impeccable golf and top-notch service, any group will be taken care of as if it is their only group event. Nothing is too much to ask for when it comes to the staff at this facility.
Boulder Creek Golf Club is roughly 30-35 minutes from the Las Vegas Strip. The facility offers an impressive clubhouse and a well-equipped golf shop. The Creekside restaurant is open for lunch and dinner; the facility has a full bar and a full service coffee shop. The banquet facility is also a great place to host tournaments, corporate outings, banquets and weddings. The greens are Bent grass offering moderate to severe breaks. Bring your game and enjoy a great day at the Boulder Creek Golf Club.

27Holes
Course Type: 
Desert / Links



Boulder Creek Golf Club Statistics
Desert Hawk and Coyote Run Rotation
Desert Hawk and Eldorado Rotation
Coyote Run and Eldorado Rotation
DRESS CODE MEN
Collared shirt
Non demin, mid length shorts or pants
DRESS CODE LADIES
Collared shirt
Sleeveless blouse of conservative design
Non demin, mid length
shorts or pants
NOTE:
Clothing that is not appropriate includes: denim shorts, denim jeans, t-shirts, swimming attire, gym shorts, halter-tops, tank tops, cut-offs and other dress that is deemed inappropriate. The Club reserves the right to refuse service to anyone who is dressed inappropriately. Non-metal spikes must be worn while on the course.