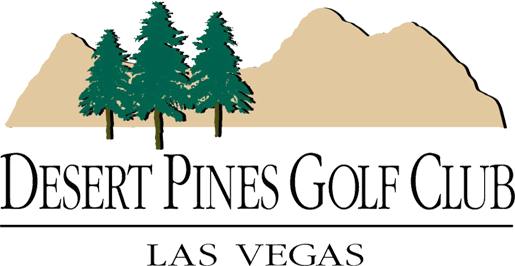 3415 EAST BONANZA, LAS VEGAS, NV 89101
Desert Pines Golf Club is described by many as "A Taste of the Carolinas" in the city of Las Vegas. This Dye designed course features thousands of mature pine trees lining the fairways. White sand bunkers protect large, undulating greens with water coming into play on 9 out of 18 holes. Desert Pines Golf Club is extremely convenient, located less than 10 minutes from downtown and less than 15 minutes from the Las Vegas Strip. This course provides players of all abilities a fun and rewarding experience … one in which you'll use every club in your bag. Golf Digest has recognized Desert Pines Golf Club as one of the best new upscale courses in the country.
Number 9 and number 18 play as the two hardest holes on the golf course. Number nine, "Double Down" from the back tees plays a daunting 447 yards with a lake on the right side of the fairway, which has a slicer shaking at the knees. A straight drive is a must, but it is not yet over. With a tricky pin placement on the back right, the water guards the entire right side of the green; another slice, another water ball. Number 18 "Gauntlet" plays very similar at the same 447-yard distance, but with a long fairway bunker on the right side (they never forget about the slicers) and this time the same lake is on the left. A good drive is a must on number 18, because the shot to the green needs to be accurate. The lake covers the entire left side of the green along with a bunker front and to the right of the green. The most fun hole on the course is number 12 "Tunnel Vision." This is what Desert Pines is all about. The name fits this hole to a "tee", because from the "tee" box to roughly 100 yards out there is about 7 yards of width from pine tree to pine tree. A straight drive is a must or you might be pulling out the rock club or taking a drop. Then if you ever get to the fairway, you will see some of Pete Dye's signature design features with tall railroad ties lining the fairway and green side bunkers. This hole makes the course for anyone looking to enjoy one of Pete Dye's exciting designs.
Duffers Restaurant serves breakfast and lunch daily and includes the Champions Room for private functions and meetings for up to 175 people. On-course food and beverage service is available.
The Desert Pines Golf Club Practice Center is a 20,000 square foot, two-tiered, climate-controlled practice facility. The Practice Center features five target greens resembling some of the country's most famous par 3, 17th holes. It is lighted for evening practice and has a state of the art teaching center, with instruction from PGA teaching professionals.
*Complimentary limited lunch menu and a domestic beer special: All tee times year around include the complimentary limited lunch menu and one can of domestic beer per person. Please mention the special upon check-in and you will receive vouchers for redemption that day. The kitchen closes at 3:00pm year around. After 3:00pm sandwiches and multiple hot dog options are available. Upon check in please inquire about the restaurant's hours if you plan on eating after your round. Please make sure to ask your VIPGS representative if you have any questions regarding this special.




Desert Pines Golf Club Statistics
DRESS CODE MEN
Collared shirt
Non demin, mid length shorts or pants
DRESS CODE LADIES
Collared shirt
Sleeveless blouse of conservative design
Non demin, mid length
shorts or pants
NOTE:
Clothing that is not appropriate includes: denim shorts, denim jeans, t-shirts, swimming attire, gym shorts, halter-tops, tank tops, cut-offs and other dress that is deemed inappropriate. The Club reserves the right to refuse service to anyone who is dressed inappropriately. Non-metal spikes must be worn while on the course.